Non-Financial Statement Duplicate 2
La Dichiarazione Non Finanziaria è il documento dove sono rendicontate le attività realizzate dal gruppo Sella nell'ambito della Sostenibilità. Viene redatta secondo quanto previsto dal Decreto Legislativo 254/2016, che recepisce la Direttiva 2014/95/EU, nonché in conformità ai "Global Reporting Initiative Sustainability Reporting Standards" definiti dal Global Reporting Initiative (GRI).
La dichiarazione non finanziaria è oggetto di assurance da parte della società tempo per tempo incaricata dell'attività di revisione legale del bilancio.
I contenuti oggetto di rendicontazione, che fanno riferimento all'esercizio 2021 (1° gennaio - 31 dicembre), sono stati individuati attraverso un'analisi di materialità, che è stata elaborata attraverso un'attività di stakeholder engagement sul sito del Gruppo mediante una survey dedicata alla sostenibilità realizzata negli ultimi mesi del 2020. A tale survey hanno aderito circa 3000 rispondenti distribuiti tra le diverse categorie di stakeholder significativi per il Gruppo.
Il perimetro dei dati economici riportati nel presente documento coincide con il perimetro dei dati della Relazione e Bilancio annuale Consolidato di Sella al 31 dicembre 2021.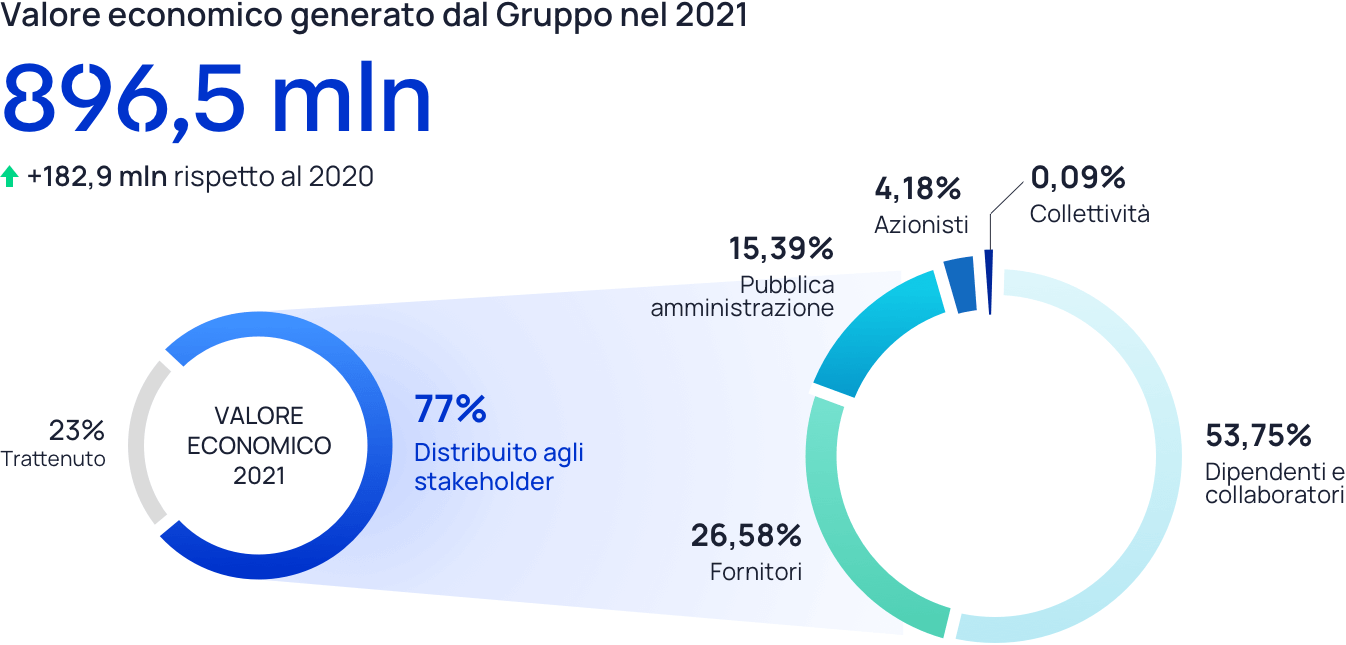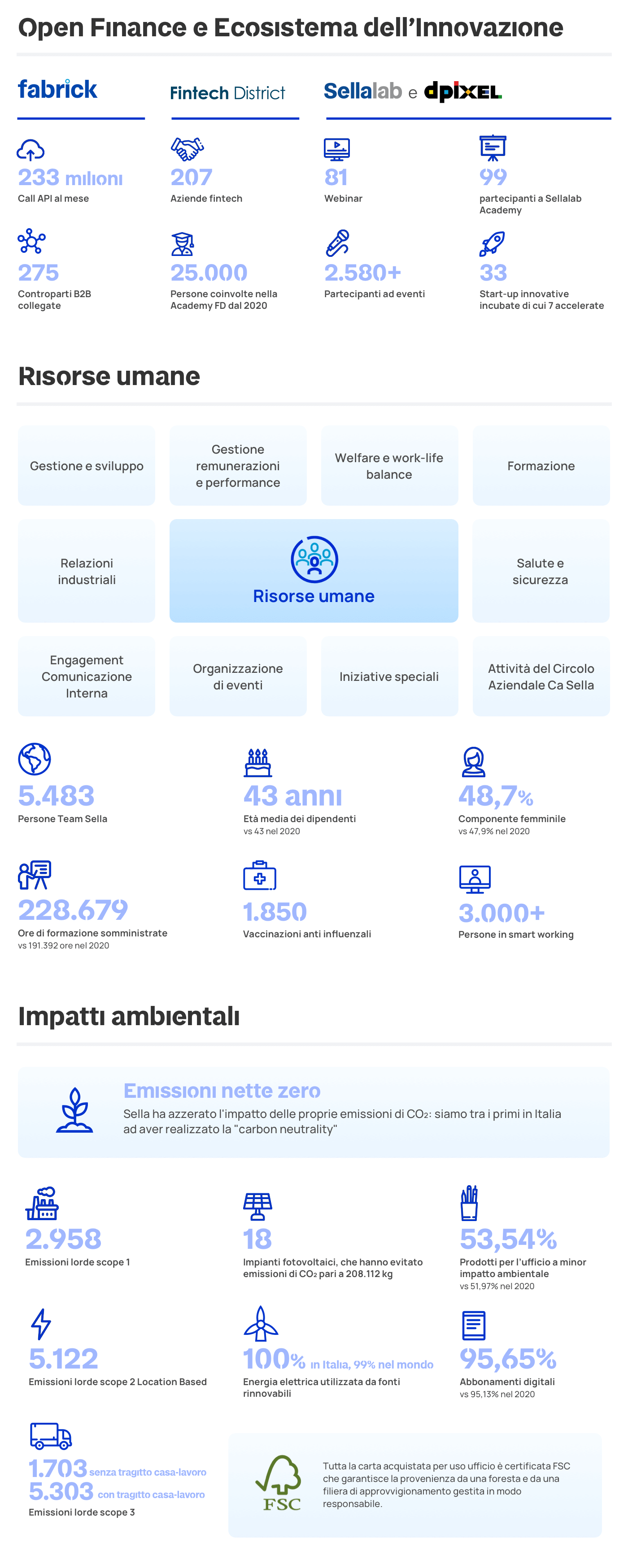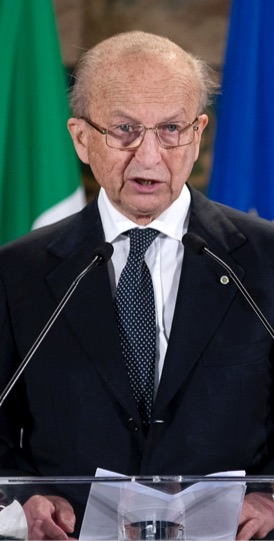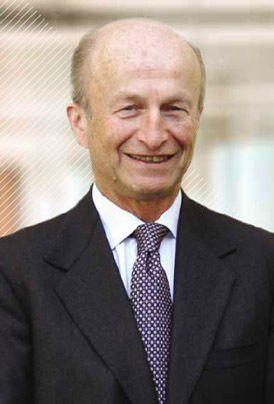 Maurizio Sella:
let's look to the future with confidence
Everything around us has suddenly changed, forcing us to review our personal, social, professional, and productive interactions. The lockdown months and the necessary precautionary measures also had a critical impact on the economy.

However, they have, as well, been months of resilience, thanks also to an extraordinary cohesion and collective commitment, to which everyone contributed, doing their part for the common good: individual citizens, associations, organizations, small and large companies, national and international institutions. Science has also done its part, delivering vaccines quite quickly, which quickly inoculated to as many people as possible, in combination with the development of therapies against the disease, has helped us overcome the critical phase of the pandemic.

Through the difficulties of the pandemic, the European Union has rediscovered the spirit of its origins and promptly launched an intervention program which, without exaggeration, has been defined as a new Marshall Plan, due to the impacts it will have, not only from an economic perspective but also from a social, health and sustainability outlook of future development. It is a good plan, with many resources available: a sign of epochal change, to counter the economic crisis generated by the pandemic, with an eye to the new generations.

Thanks to the resources of this plan, therefore, we have, on one side, the possibility of improving the health structures, which the pandemic unequivocally confirmed as important and urgent, so that they are always efficient, effective and in step with the times. On the other side, it will be possible to help to start the strong, expected economic recovery, potentially a real new economic miracle. Thus, a year full of difficulties turned out also as a time rich in opportunities. The pandemic progressed transformations that were already underway and that are improving the world we live in. First of all, this is visible concerning digital transformation and the attention to sustainability, representing, today, clear priorities of what is called the "new normal".
One of the main data resulting from the Non-Financial Declaration concerns the Economic Value, also defined as added value, created by the activities of the Group, which amounted to 713.6 million euros (13 million more than in 2019), 85% of which was distributed. Much of the shared economic value (55,4% circa 337.1 million euros) was used for employees and cooperators in the form of salaries, variable remuneration and social security contributions. 28% was used for the payment and support of the supply chain business system: overall the Group made purchases of over 170 million euros. Economic impacts of the Group are also measured in supporting public spending through the sharing of tax revenues (14.3%) and in the remuneration of the share capital (2,2%), thus fostering further investments. Concerning disbursements to the collectivity as previously said, the Group disbursed more than 1 million euros for the Coronavirus emergency and in form of contributions to entities and associations (Fondazione Sella, Fondazione Umberto Veronesi), Universities, non-profit organizations, the Italian Red Cross.
Education, work-life balance, corporate welfare, involvement, performance management. In the current context, of strong acceleration of digital transformation and innovation, also due to the emergency connected to the pandemic, all these become essential areas of good management and development of people in the company. Attention to people, intended as "human resources" is one of the chapters of the Non-Financial Statement that we have just published.
The value generated by the Sella Group and the results achieved in such a particular year resulted from the work of a team that, in December 2020, reached 5,248 members, including employees and co-operators who make up the Sella Team. Of these, there are 4,854 employees, an increase of 207 units compared to 2019. The 2021-2023 Business Plan envisages continuous growth and HR investments.
It is a young group, whose workers' average age is about 43 years old which has always considered diversity as a winning factor. diversity and inclusion are part of the Group's everyday life, as demonstrated by both the substantial balance between the female and male component and the continuous cultural exchange also favoured by working contacts, among colleagues present in Italy, India, Romania, England, Spain, United Arab Emirates and Switzerland.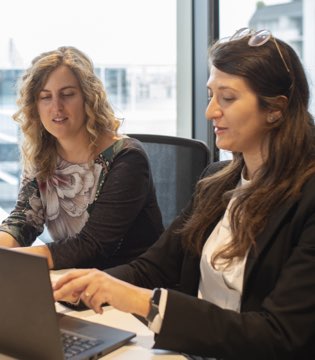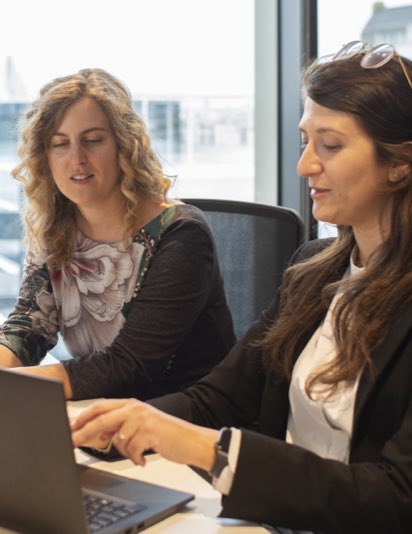 When it comes to training, the Group has structured a plan intended for setting up and launching significant staff development paths to enable the organization to operate in an agile and open manner in a rapidly changing context. The individual development of human resources translates in enhancing the talents of each individual so that everyone can fully take part, to the best of their ability, in achieving objectives. In 2020, overall, more than 191,000 training hours were provided at the Group level.
The Group is significantly focused on work-life balance and projects aimed at improving it involve a wide range of contexts. To support a better work-life balance, in 2020, the "Banca del Tempo" (TimeBank) project was implemented. Colleagues could donate vacation days to other colleagues in need, who made a specific request so that they can take advantage of it. Smart working activated in the Group well before the inception of the pandemic, as well as the possibility of working in co-working spaces in various Italian cities, made it possible to optimize business trips with a benefit both for the quality of life of people and for the environment thanks to the emissions saved.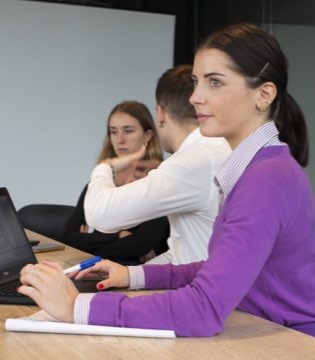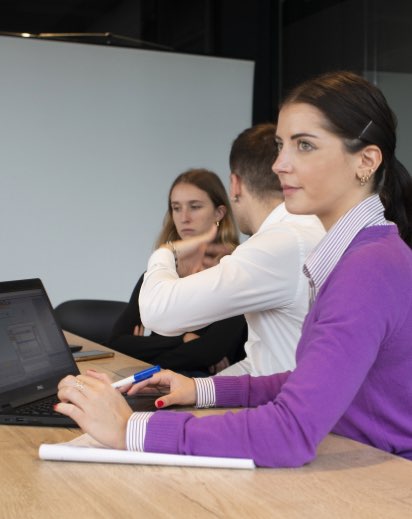 The company welfare system was further enriched and promoted to support the well-being of people in the organization and maintain a high level of motivation and engagement, in continuity with previous years. Engaging people is a pivotal factor to reach corporate objectives. This is pursued: through several initiatives, the use of multiple channels, and internal communication tools, that further evolved and adapted to ensure maximum involvement even during the pandemic, for instance: through streaming events, podcasts, videos and the increase in the use of the corporate social network, that during 2020, recorded around 9 million interactions.
Finally, the performance management system, which has been evolving in recent years, is a significant opportunity for joint reflection between manager and employee, making it possible to provide feedback on the results achieved and on the behaviours expressed, with a view to constant improvement.
To achieve sustainable development, capable of satisfying the needs of the present without compromising the ability of future generations to meet their own, attention to the environmental impact of its activities is a fundamental aspect to guide one's decisions.
For this reason, too, the Sella group has for many years chosen to focus on solutions with greater energy efficiency and lower environmental impact, as reported in the Non-Financial Statement just published, to pursue a progressive reduction in carbon dioxide emissions.
Most of the share of electricity purchased and used by Sella is green energy: it is supplied by the Compagnia Valdostana Delle Acque Trading s.r.l. (CVA Trading) which certifies the «Guarantee of Origin» that is to say the origin from renewable sources.
The Group also contributes to its energy needs thanks to 17 photovoltaic systems installed on the roofs of offices and branches scattered throughout the Italian territory. More specifically, the 17 photovoltaic plants in 2020 produced 372,426 kWh with a saving of 197,758 kg of carbon dioxide emitted into the environment.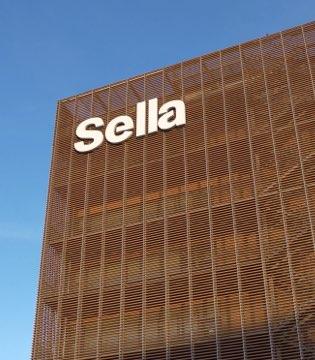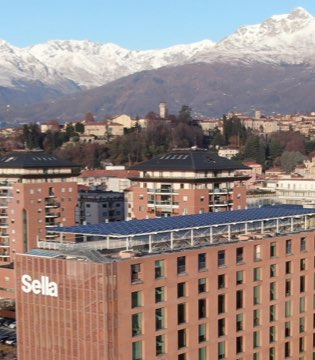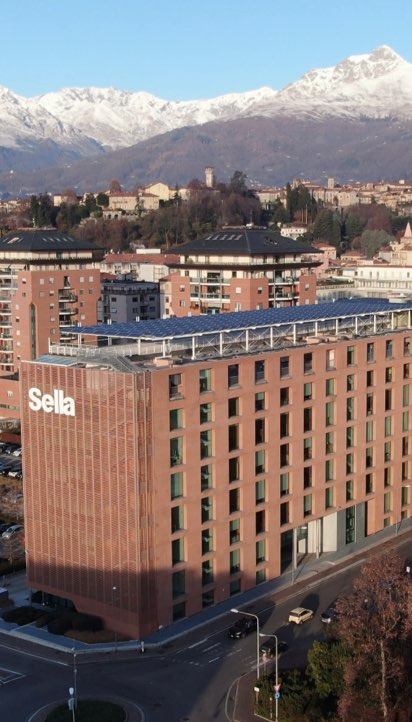 presso la sede centrale del Gruppo a Biella, è in funzione un impianto solare termico per la produzione di acqua calda, affiancato a due impianti fotovoltaici. I sistemi permettono un'importante riduzione dei consumi di gas metano e di energia elettrica e delle relative emissioni;
è stato aggiunto un nuovo impianto fotovoltaico che porta a 18 il numero degli impianti fotovoltaici presso gli stabili di Sella con una potenza complessiva di 401,96 kWp.
al servizio del complesso immobiliare di Biella Via Italia/Via Gustavo di Valdengo/Via Volpi e Viale Matteotti è stato realizzato un impianto centralizzato che ha permesso l'eliminazione delle singole caldaie a condensazione e la gestione con unico impianto più efficiente.
La sede centrale del Gruppo a Biella è stata realizzata adottando significative iniziative in merito alla eco sostenibilità ed all'efficienza energetica e, per valorizzare al meglio tali interventi, nel corso del 2021 è stato avviato il percorso di certificazione LEED® O+M (Operations and Maintenance).
La quasi totalità (99,27%) di energia elettrica acquistata e utilizzata dal Gruppo Sella è energia verde certificata con «Garanzia di Origine» ovvero proveniente da fonti rinnovabili. L'utilizzo dell'energia verde raggiunge la totalità (100%) in Italia e Romania.
Attualmente sono attivi n° 18 impianti fotovoltaici che, nel corso del 2021, hanno prodotto 391.925 kWh con un conseguente ammontare di CO2 evitate pari a 208.112 kg . Gli impianti citati sono dotati di sistemi di monitoraggio che registrano la produzione di kWh e anche le "evitate" emissioni di CO2. Sono in corso gli studi di fattibilità di nuove iniziative per l'ampliamento del parco fotovoltaico al fine di aumentare l'autoproduzione di energia elettrica da fonti rinnovabili e ridurre i consumi energetici del Gruppo.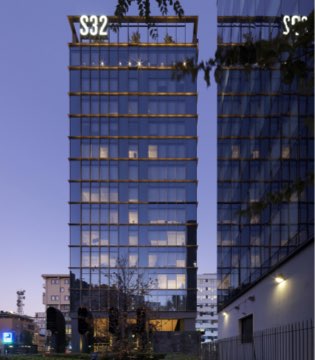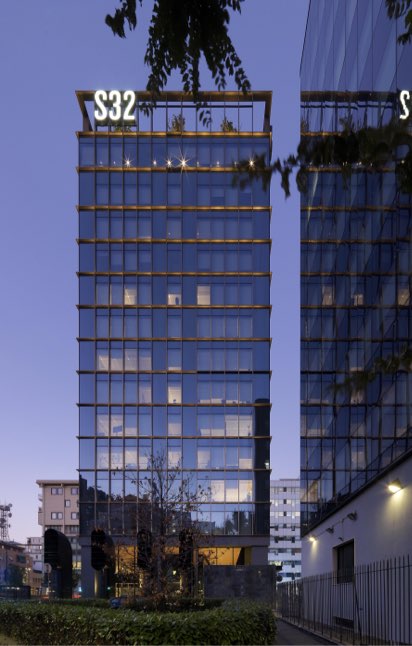 The S32, the building in Milan housing the Fintech District community received the LEED (Leadership in Energy and Environmental Design) "Platinum" certification, the highest level, characterizing buildings that make efficient use of resources, use less water and energy and reduce greenhouse gas emissions allowing to save management costs. LEED certification provides a set of standards for evaluating environmentally sustainable buildings and it is currently the most widely used voluntary building certification system in the world.
The individual companies of the group have also developed independent initiatives to reduce their environmental impacts, referring to both consumption and the design of workspaces. Among these, the home automation system at various offices of Banca Patrimoni Sella & C. the choice of LED lighting fixtures, the recycling of equipment used through collaboration with external partners in Centrico Selir stand out. In 2020, as a result of the pandemic and the adoption of smart working, disincentives to the use of paper continued, when printing was not mandatory. During the year, the number of unprinted sheets was 6,218,793, thus saving 78 trees from felling.
The attention to the environment of the Sella Group also applied to the supply chain. In 2020: over 50% of the office material used was of low environmental impact, digital subscriptions to newspapers and magazines have reached the 95.13% of the total, an increase compared to 88% in 2019. Support for the territory also reflected in the choice of local suppliers in Italy (84%), India (86%) and Romania (63%).
A partire dal 2021 sono stati nominati nel Gruppo i mobility manager, ossia le figure professionali che devono promuovere le forme di mobilità sostenibili, da un punto di vista ambientale, economico e sociale, e il conseguente cambiamento degli atteggiamenti e delle abitudini degli utenti.
L'obiettivo che il Gruppo si è dato è consentire la riduzione strutturale e permanente dell'impatto ambientale derivante dal traffico veicolare e per concretizzare al meglio tale impegno sta lavorando sui seguenti ambiti:
diffusione e promozione del lavoro agile;
sostegno alla mobilità leggera attraverso diverse iniziative tra le quali spazi aziendali riservati per ricoverare le bici;
promozione dell'utilizzo di strumenti di comunicazione da remoto che consentano di evitare gli spostamenti legati a meeting in presenza;
progressivo rinnovamento del parco auto aziendale in ottica di minor impatto ambientale.
L'attenzione all'ambiente del Gruppo Sella viene applicata anche alla catena della fornitura, basti pensare che nel 2021 oltre il 53,54% del materiale per l'ufficio utilizzato è a basso impatto ambientale, gli abbonamenti digitali a giornali e riviste hanno raggiunto il 95,65 % del totale. Il sostegno al territorio si è concretizzato inoltre nella scelta di fornitori locali in Italia per l'88,54%, in India per l'78,61% e in Romania per il 61,48%. Inoltre, tutta la carta acquistata per uso ufficio è certificata FSC che garantisce la provenienza da una foresta e da una filiera di approvvigionamento gestita in modo responsabile.
Non-Financial Statement Reports
Social Responsibility Report
Letter to the consumer
Read the Letter to the Consumer written by ConsumerLab, which shows our commitment to building a more sustainable and inclusive economy at an environmental and social level.